S.C. Encyclopedia  |  Promoter and publisher John Tobler, born in Appenzell, Switzerland,  became that canton's governor until he was removed from office in a power struggle. He then worked with other prominent members of his community to bring Swiss settlers to South Carolina.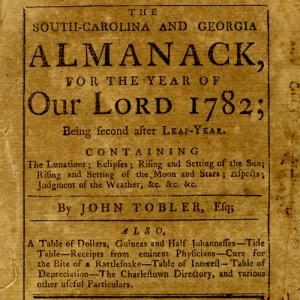 After some delays in Europe, Tobler and about 190 Swiss arrived in Charleston in February 1737. Leading the first 25 settlers from the coast, Tobler took the group across the province to settle the township of New Windsor on the South Carolina side of the Savannah River. The Swiss native established a store in the township and probably had a small farm. But his abilities were much broader than just working the land. In 1744 he claimed to have invented a machine to clean rice that, with three slaves, could do three barrels in a day. He wrote promotional pieces about South Carolina to attract more settlers, including detailed accounts of his travels and observations about life on the colonial frontier.
In the early 1750s Tobler began to publish an annual almanac, the South Carolina Almanack. The reference work included information on diverse subjects ranging from details on phases of the moon and eclipses, advice on bleeding, a garden calendar, cures for poison, and a description of the roads in the southern colonies.
After his death, Tobler's son John continued to publish the work until 1790. John Tobler, Sr., also published a Pennsylvania almanac briefly during his lifetime. The Swiss patriarch brought a new level of culture to the colonial frontier that included a "house" or chamber organ and several books in German. Tobler married sometime before his arrival in the New World and had at least four children. He died on April 19, 1765.
— Excerpted from an entry by Fritz Hamer.  This entry hasn't been updated since 2006.  To read more about this or 2,000 other entries about South Carolina, check out The South Carolina Encyclopedia, published in 2006 by USC Press. (Information used by permission.)