TODAY'S FOCUS | permalink
Happy to call Charleston home
By ASHLEY HANNAH
SCRA
Special to CharlestonCurrents.com
NOV. 4, 2010 - Ryan Fiorini was born and raised 30 miles outside of Detroit. He took up ice hockey at the age of 4, and had childhood dreams of playing in the NHL. Eventually, during college (1996-2000) he played defense with the Green Bay Deacons, a semi-pro hockey team in Northern Wisconsin.

Fiorini
But Fiorini also had an interest in science that brought him to Charleston to study at the Medical University of South Carolina. He earned his Ph.D. in microbiology and immunology in 2005, specifically focusing on testing therapies on transplanted livers with the hopes of increasing the number of donor organs available to those in need. Ten years later, Charleston is still his home, where he now pursues a new dream.
Fiorini is chief operating officer and co-founder of a Charleston-based start-up company that holds tremendous promise for therapeutic advancement using fully human antibodies. The company, Immunologix, is based on intellectual property licensed from MUSC, and is the only company currently offering fully human antibody technology in an in vitro system, which offers increased therapeutic safety and reliability, lower costs to produce, and a dramatically reduced delivery time than traditional antibody-based technologies.
"I came to Charleston to complete my Ph.D., but found a number of opportunities here that have allowed me to pursue other interesting areas too," states Fiorini. "I love the area and the warm weather. When it was 70 degrees in Charleston and 7 degrees in Michigan and Wisconsin, I decided that I wanted to stay here."
Fiorini followed his doctoral degree with a master's in business administration from the Citadel and a master in health administration certificate from MUSC in December 2007. It was a desire to further combine and apply his interests in science and business that helped lead to the formation of the company.

"I started thinking about launching my own company, and was fortunate to have resources here that allowed me to do just that. Not only was I able to complete my graduate education and additional degree programs, but I found a great technology at MUSC, received a start-up investment from SC Launch (www.sclaunch.org) and a number of private investors, and now Immunologix is a tenant in the SCRA MUSC Innovation Center," explains Fiorini. "Immunologix completed an initial financing round in March 2010 and continues to move forward, now with revenue from therapeutic antibody sales."
The SC Launch program and the SCRA MUSC Innovation Center in Charleston are both managed by SCRA. SC Launch was formed in 2006 to support promising emerging technology-based companies in South Carolina. Immunologix received a $50,000 Start-up Assistance Grant in 2009 and a $200,000 investment in 2010 from the SC Launch program to assist with laboratory set-up costs. The company was one of the first tenants to move into the new Innovation Center, which officially opened in December 2009. The center offers ready to use laboratory and office space for emerging companies such as Immunologix.
"I'm so glad to have the resources and opportunities that I've found in the Charleston area," states Fiorini. "Immunologix would not exist without these commercialization programs and the support that I've received here."
Adds Fiorini, "And, I haven't given up on my other interests completely. I have decided to take a semester off from teaching in the biology department at the College of Charleston to allow me to put my full effort towards Immunologix, but I still get to play hockey a few times a week in Charleston at the Carolina Ice Palace."
Ashley Hannah is program manager at SCRA.
CURRENTS| permalink
Cutting edge: Sharpen your knives, support the Food Bank
By AN THRASH, contributing editor
NOV. 4, 2010 - If you've started thinking about your family's Thanksgiving and Christmas plans, you're probably thinking about things like who's going to whose house, how long you'll stay, who's bringing what for dinner, and whether the neon green congealed salad that Aunt Ethel brings every year is really as bad as you remember. (Yes, it is.)

Thrash
But one thing you probably haven't given any thought to is what kind of shape your knives are in. When's the last time you sharpened the big knife that Dad uses to hack up, I mean carve, the turkey? How about the steak knife set that comes out for company dinners, or the favorite paring knife you use to peel apples?
It's a safe bet that your knives deserve some attention, and thanks to a great event this weekend at a local kitchen shop, you can get your knives - and your knife skills -- sharpened to benefit a worthwhile cause.
On Friday, Saturday and Sunday, the Coastal Cupboard in Mount Pleasant is hosting a free knife-sharpening event to benefit the Lowcountry Food Bank. For each nonperishable food item you bring in, the shop will professionally sharpen one knife. If you prefer, you can donate $1 per knife instead of bringing in a food item.
All the money and food collected will go to help the Food Bank (one of Charleston Currents' nonprofit partners) at one of the agency's busiest times of year.
Coastal Cupboard offers knife-sharpening regularly throughout the year at a cost of 60 cents per inch of blade, so $1 per knife is a good deal. Owner Brad Pitner says the store has held free knife-sharpening weekends periodically over the past five years as a promotion. "They've been wildly successful. People come flooding in for it," he said. "Back in June, we decided we would make it something for charity, so we did it as a benefit for Louie's Kids."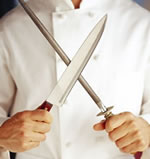 He said the event raised approximately $1,700 for the Charleston-area nonprofit, which helps fight childhood obesity.
"This being the season that it is, and with the economy the way it is, we thought this would be a time when we could give an extra push for the Food Bank during one of their crazy times," said Pitner.
You don't need reservations to get your knives sharpened, and it shouldn't take long; two sharpening stations will be set up to keep things moving. "I think the wait in June never exceeded 15 minutes at the most, so with two stations set up, we should be able to crank out quite a few," he said.
Pitner says the knives to be sharpened must have a straight edge - no serrated blades (the kind with teeth) can be accepted.
While the pros are tending to your knives and getting them in cutting-edge shape for the holidays, you can watch special demonstrations on knife techniques and knife care, offered by the store's in-house chefs and representatives of knife companies that work with the store.
"Probably one of the most misunderstood parts of owning knives is how to maintain them and sharpen them and use them properly," Pitner says, so this will be a great chance to bone up before the holidays.
The Coastal Cupboard is located in Belle Hall Shopping Center, which is on Long Point Road in Mount Pleasant (just off the Mark Clark Expressway). Hours for the knife-sharpening event are 10 a.m. to 4 p.m. Friday and Saturday, and noon to 4 p.m. Sunday. For more information or directions to the store, click here.
Mount Pleasant native Ann Thrash is a contributing editor for Charleston Currents. She can be reached at: ann@charlestoncurrents.com.
FEEDBACK
Charleston has a lot to offer

I noticed that Cisco's (Cosgrove Ave.) is being torn down. It was one of the first to close. Many times I will mention to my wife that another restaurant (that we never frequented) had closed. The sad part is that we did nothing to help that local business. Buying from local businesses is important. We have to do our part to help.
Many who were affected by this economic nightmare might not be able to frequent our restaurants. I too look for the bargains. Frugality is now "in."
Charleston so has much to offer. Our library, most beaches, Angel Oak, etc., are free. Our county parks are not expensive. There is no excuse for not getting out and seeing the sights. This is one of the most unique towns in America. Get out there and frequent our local businesses. If other businesses don't already do so, ask them to use local products when they can. Buying locally will help insure our businesses survive. If we don't support them now, we can't complain when they are gone.
-- Michael Kaynard, Charleston, SC
Send us your letters. We love getting input from you. If you have an opinion you'd like to share (150 words or less), send your letters to: editor@charlestoncurrents.com. We look forward to hearing from you!
The public spiritedness of our underwriters allows us to bring CharlestonCurrents to you at no cost. This issue's featured underwriter is Maybank Industries, LLC of Charleston, SC. With broad experience in commercial and government operations, Maybank Industries applies deep-rooted commitment to teamwork, reliability and personal service to provide innovative business solutions for project development, information technology, logistics, vessel design, shipping agency services and marine terminal operations, both locally and internationally. Maybank Industries applies a powerful blend of professional expertise to research, analyze and develop tailored solutions with thorough plans of action, combining a heavy dose of common sense to solve today's needs that can adapt to changing or evolving requirements. More: Maybank Industries and Maybank Systems.
CHARLESTON GREEN | permalink
Dry cleaners need bigger set-aside for environment
By GREG GARVAN, contributing editor
NOV. 4, 2010 - Dry cleaners using 'perc,' or the chemical perchloroethylene, are trying to be good environmentalists in South Carolina. Unfortunately, as is all too common in environmental remediation, they have not put near enough of a self-imposed 'tax' aside to cover the groundwater liabilities. The dry cleaners fund has generated $2 million toward an estimated $161 million solution.
Garvan
The Good Earth Dry Cleaners in Mount Pleasant and Community Cleaners on Folly Road on James Island are two local shops that are ahead of the curve, having established businesses that say they are serving customers using a lower amount of toxic product. Search them out and talk about the specifics.
Sustainability scorecards: What do Procter & Gamble and Wal-Mart have in common? While not totally Charleston specific, they both serve a huge number of customers in our area. They are both deeply involved in issuing mandatory sustainability "scorecards" down through their supply chains. Energy and water use; greenhouse gases; waste reduction and other sustainable practices are being evaluated and considered when they look at their buying decisions. A very similar process is being used in Charleston's own Green Business Challenge. Can third party verification be far behind?
Tax credits to expire: Remember those tax credits for energy efficient windows, water heaters, roof shingles and other energy systems? They are set to expire on Dec. 31, and they offer some great benefits for you, your property and the environment. Charleston has a good-sized group of green installers, please patronize them.
Think about your charitable giving: The 2010 Charitable Giving Tax Seminar will focus on using tax benefits to be more intentional with your charitable giving, especially to green and social change organizations. Tuesday, Nov. 9 at 4:30 p.m. at the Harbour Club. Admission is a food donation for Low Country Food bank. Register on Facebook at "2010 Charitable Giving Tax Seminar," or call Greg at 843-633-1067.

Greg Garvan of James Island is president of Money with a Mission, an 18-year-old, fee-only financial planning firm that specializes in socially responsible/ 'green' asset management. On the Web: moneywithamission.com.
GOOD NEWS | permalink
Engineering idea wins $5,000 for Newberry entrepreneur

Charlie Banks from Newberry County won the New Ideas SC Contest on Wednesday with his business idea of a new method of manufacturing structural insulated panels that is faster, leaner and more affordable.


Banks received $5,000 of seed money for his business idea, a scholarship to a FastTrac entrepreneurial training program and a team of mentors to help him cultivate his idea for one year. Winners were announced at the ThinkTEC Innovation Summit in Charleston.
More than 300 South Carolina residents from 28 counties entered their new business idea in the New Ideas SC Contest.

Five first place prizes were also awarded in the categories of Bio-Science, Software/Information Technology, Engineering, Environmental Sustainability and the Wild Card. Each winner will receive $2,500 and a scholarship to FastTrac. Five $1,000 honorable mention prizes were distributed in each category. ?
Winners and Honorable Mentions in each category include:

Bio-Science Winner: Istvan Bognar, Greenville County, for a device that makes it easier to develop a scar tissue track in a dialysis fistula. Developing this scar tissue track means dialysis patients reduce dramatically the issues around establishing the IV line at every visit.

Honorable Mention: Brady Evans, Orangeburg County, for "Cook uEat," a full service nutritional program providing meals and recipes to improve the health of patients after discharge from the hospital.
Banks with Nina Sossoman
Engineering Winner: Charlie Banks, Newberry County.

Honorable Mention: Tiki Bietri, Dorchester County, for "Foot Guardian," a new device that will significantly improve the safety of manual pallet jacks, reducing the risk of foot injuries and foot rollovers.
Environmental Sustainability Winner: Robert Horner, Charleston County, for a process to use the waste heat produced by power plants to dry bio-solids from nearby public wastewater utilities. These bio-solids can then used/burned to produce energy as an alternative to coal and other fossil fuels.

Honorable Mention: Ron Fulbright, Spartanburg County, for a truck with a detachable bed, giving it the ability to switch from a full size truck to your basic passenger vehicle when possible, reducing gas consumption.
Information Technology/Software Winner: Gordon Jones, Aiken County, for a website that will give first responders real time information on the emergency they are responding to based on data/videos submitted by the public who are already on scene.

Honorable Mention: Andy Richardson, Beaufort County, for a new iPhone application that will allow you to measure distances from the information you get when you take a photograph.

Wildcard Winner: Lauri McLeland, Darlington County, for "Speedway Plays," a mat for your child to play on with their favorite toy cars - they can 'race' at Daytona, Bristol, Talladega and more.

Honorable Mention: Harlan Richards, Berkeley County, for "EZ Gown," a redesigned hospital gown without metal snaps that enables you to maintain your modesty while still allowing for medical testing and procedures.
Riley asks you to read book, support author's work

Charleston Mayor Joseph P. Riley Jr. on Wednesday encouraged the community to join the College of Charleston as its students read Greg Mortenson's book, "Three Cups of Tea." Mortenson is visiting the college at 5 p.m. Nov. 11 to speak to students, faculty and the community about his extraordinary work in Afghanistan and Pakistan.
Mortenson, co-founder of the nonprofit Central Asia Institute and of Pennies For Peace, co-wrote the best-seller "Three Cups of Tea" with David Oliver Relin.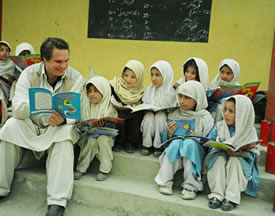 Mortenson reads to children.
"Greg Mortenson's work to bring peace to volatile regions of the world such as Afghanistan and Pakistan is to be honored and supported," Riley said. "By educating the children of these dangerous parts of our world, he hopes to bring about change for the entire world ... His courageous and admirable efforts help us all."
Riley also encouraged the community to donate to Mortenson's organization, Central Asia Institute, at its Web site.
The Central Asia Institute's projects focus on girls' education, literacy and basic health education. Educating children in the third world costs about $1 per month per child. Since its incorporation in 1996, CAI has provided education to more than 58,000 students, including 40,000 girls.
In 2009, Mortenson received Pakistan's highest civil award, Sitara-e-Pakistan ("Star of Pakistan"), for his humanitarian efforts for the past 15 years.
The most prominent theme in "Three Cups of Tea" is the importance of education. College of Charleston students have partnered with teachers in the Charleston County School District to implement a curriculum for elementary students based on "Listen to the Wind," the picture book version of Mortenson's story. A curriculum for middle and high school classrooms is based on the young adult version of "Three Cups of Tea." Donations from the community have provided more than 4,000 books for the children participating in the College's Literacy Outreach Initiative.
For more information about Mortenson's visit to the College of Charleston, contact Carol Ann Davis at davisca@cofc.edu. Tickets are free, and are available for pickup.

New human performance lab to be dedicated at The Citadel
The Citadel's Department of Health, Exercise and Sport Science will dedicate the Dr. Hank Cross Human Performance Laboratory during Homecoming events this coming weekend.
The state-of-the-art lab has more than doubled the exercise science research laboratory and teaching space in Deas Hall. At 1,400 square feet, the lab has equipment for phlebotomy and exercise testing, along with meeting space, offices and locker rooms.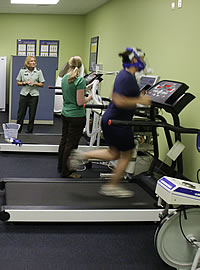 "This new Human Performance Laboratory is what industry leaders need to perform cutting-edge research in exercise and health science," said John Carter, head of the HESS department. "Our undergraduate and graduate students will enjoy greater involvement in exciting new research because this lab will provide many more opportunities for them to pursue special projects, do thesis work, present research findings, and publish results of research projects in collaboration with our professors."

Bite Tech Inc. provided the $200,000 to build the Human Performance Lab. Hank Cross is director of research at Bite Tech, a Minneapolis-based technology company dedicated to improving performance and health. The company recently partnered with Under Armour to release custom performance mouth wear.
HESS professor Dena Garner is one of several professors researching how mouthpieces used during sports and exercise affect athletic performance. The lab will create enhanced opportunities for the department and students to investigate how mouthpieces affect hormones and muscles in the body and, more specifically, the effect on pistol shooting accuracy.

"The research conducted in the laboratory is innovative and is making significant contributions in the dental and the exercise science research," said Garner, who will direct the Cross lab.

Working with Garner on the research are HESS's Wesley Dudgeon and Erica McDivitt, and Timothy Scheett, Department of Health and Human Performance at the College of Charleston.
Parks commission opens tennis courts at Baptist Hill High

The Charleston County Park and Recreation Commission (CCPRC) recently completed construction of two new tennis courts at Baptist Hill High School in Hollywood. These are the only public tennis courts in the area, and were funded through an SC Park and Recreation Development Fund (PARD) Grant, with CCPRC providing matching funds.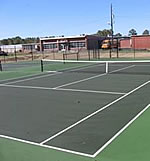 The Baptist Hill courts are the latest addition to the Rural Recreation Program, administered through Charleston County Community Education. This partnership between Charleston County School District (CCSD) and CCPRC provides recreation services in areas of the community which are not served by other municipal recreation departments. Previously, CCPRC funded recreation complexes on CCSD property at the campus of Schroeder Middle/C.C. Blaney Elementary School in Hollywood, and at St. James Santee Elementary in McClellanville.

The new courts will enable Baptist Hill High School to add tennis to its Physical Education curriculum and create a varsity tennis program for its students. But of equal importance, the courts will be accessible to the public when not in use for official school functions. This public access is a requirement of the PARD funding, and also of primary importance to CCPRC.

The addition of these courts also coincides with several other recent tennis-related accomplishments in the area, including Charleston's selection by the United States Tennis Association (USTA) as the 2010 Best Tennis Town, CCSD's receipt of a $150,000 grant from the USTA to fund the creation of 45 school- based tennis programs throughout Charleston County, and CCPRC's renovation of courts at the Schroeder/C.C. Blaney campus. The Schroeder/C.C. Blaney campus facility renovation included the addition of Quickstart Tennis courts for younger players, giving the Hollywood area tennis facilities for ages five and up.

For more information on Charleston County Community Education, visit www.charlestoncoce.org. For more information on CCPRC, visit www.ccprc.com or call 843-795-4FUN (4386).
REVIEW
Send us your thoughts about books, dining
HAVE A REVIEW? If you have a review or recommendation of a book, movie, restaurant or local arts endeavor, please send no more than 150 words to editor Marsha Guerard. Make sure to include your name and full contact information.
SC ENCYCLOPEDIA | permalink
1876: An election to remember

During most of Reconstruction in South Carolina, the Democratic Party did not field tickets in statewide elections. Because of the state's large African American majority and the freedmen's loyalty to the party of Abraham Lincoln, the Republican Party had a firm grasp on state politics. Democrats could hope to wield influence only by siding with one Republican faction against another.

Hampton
While that strategy produced tangible gains for Democrats, especially in 1874, Democrats in 1876 determined to make a campaign for a "straight-out" Democratic ticket. They nominated for governor Wade Hampton III, South Carolina's highest-ranking Confederate officer, and other leading Confederate officers filled out the ticket. The Democratic strategy of "force without violence" depended on the ability of Democrats to intimidate or coerce Republicans into abstaining, but without provoking federal intervention in the state's affairs.
Democrats sought to deter Republican enthusiasm by riding wherever Republican officials were planning to speak, creating a disturbance, and breaking up or taking over the rally. Usually they demanded equal time to respond to Republican speeches; often they disrupted Republican speakers with loud shouting or the brandishing of guns. While such tactics were unlikely to persuade voters of the superiority of Democratic ideas, they were effective in making the point that the Republican state government could not protect its own leaders, not to mention rank-and-file supporters. On Election Day in 1876 they appeared at the polls armed and in force, and they attempted to prevent African Americans from voting. In this objective of reducing the Republican vote Democrats were unsuccessful, as the Republican Party achieved its highest vote total of the entire Reconstruction period for incumbent governor Daniel H. Chamberlain.
They were much more successful, however, in piling up new Democratic votes. Hampton's candidacy and the grassroots "Red Shirt" organizations created a fever pitch of excitement among the whites. The straightforward campaign for white supremacy gave the white masses a clear end and a clear means to that end. Rallies were held in every county of the state, often including rituals in which Hampton would come upon a woman dressed as "South Carolina" and raise her up from the dust or liberate her from her chains. There were parades, music, and cheers upon cheers, especially when Hampton spoke. Hampton undoubtedly gained the votes of many whites who had never voted before during Reconstruction. At the same time, his frequent promises to respect the civil rights of blacks won him favor in the North.
It must be remembered, however, that the full voting strength of white South Carolina was still insufficient to win a fair election. According to an 1875 special state census, South Carolina had 74,193 white men over age twenty-one and 110,735 black men over age twenty-one. The
Democrats polled 92,261 votes and the Republicans polled 91,127 in 1876. Therefore, either 18,000 African Americans voted for Hampton (as he reportedly believed) or his victory was owed to ballot box stuffing, repeat voting, and illegal voting. All these tactics were admitted by Democratic leaders in their memoirs - Georgians crossed state lines to vote, Red Shirts rode from polling place to polling place voting everywhere they went, Democrats folded multiple "tissue ballots" inside their regular paper ballots. Edgefield County reported two thousand more votes than it had eligible voters.
With fraud so obvious, the Republican-controlled State Board of Canvassers seized the opportunity to grab the election. They declared invalid the votes of both Edgefield and Laurens counties, which had gone heavily for Hampton despite being solidly Republican in the past.
Throwing out those counties gave Republicans control of the state House of Representatives, and that body had the authority to determine the winner of the election for governor. When the General Assembly met, the disputed members from Edgefield and Laurens Counties were excluded, and the House organized along Republican lines. The Democrats walked out in protest and, incorporating the disputed members, declared themselves a quorum. They then returned to the State House, forced their way in, and began to conduct business. For four months South Carolina had two legislatures - each one debating bills and passing laws. The state had two governors as well, with both Hampton and Chamberlain attempting to exercise the powers of that office.
The election had national as well as local significance. Presidential candidates Samuel Tilden and Rutherford Hayes were so tightly deadlocked in electoral votes that South Carolina's votes would determine who became president. On the face of the returns Hayes, a Republican, won; but he had to wait for a national bipartisan election commission to side with him and Democrats to cease their delaying tactics before his election was assured in late February 1877.
Once elected, Hayes adopted a "hands-off" policy toward the South. In April of that year Chamberlain, knowing that the federal government would not maintain him in office, resigned.
Reconstruction in South Carolina was over.
-- Excerpted from the entry by Hyman S. Rubin III. To read more about this or 2,000 other entries about South Carolina, check out The South Carolina Encyclopedia by USC Press. (Information used by permission.)
SISTER PUBLICATIONS
We encourage you to check out our sister publications:
Statehouse Report -- a weekly legislative forecast that keeps you a step ahead of what happens at the Statehouse. It's free.

SC Clips -- a daily news compilation of South Carolina news from media sources across the state. Delivered by email about the time you get to work every business day. Saves you a lot of money and time. Sign up for a free trial subscription today.

Georgia Clips offers a similar daily news compilation for the scores of newspapers in Georgia's 159 counties.

Gulf Spill Clips -- a daily compilation of news related to the Gulf oil spill. Free.

GwinnettForum -- an online community commentary for exploring pragmatic and sensible social, political and economic approaches to improve life in Gwinnett County, Ga. USA.
CREDITS

CharlestonCurrents.com is provided to you twice a week by:
Address: P.O. Box. 22261 | Charleston, SC 29413
UNSUBSCRIBE

We hope you'll keep receiving the great news and information from CharlestonCurrents.com, but if you need to unsubscribe, click here.
© 2008-2010, Statehouse Report LLC. All rights reserved. CharlestonCurrents.com is published every Monday and Thursday by Statehouse Report LLC, PO Box 22261, Charleston, SC 29413.
THE LIST | permalink
Five favorite ballets
We wondered what Jill Eathorne Bahr would say when we asked her to name her five favorite ballets.

Bahr
After a career with the Charleston Ballet Theatre spanning 23 years, we knew the resident choreographer must have some favorites.
For more about the Charleston Ballet Theatre, including tickets to its upcoming performances of The Nutcracker, go online.

QUOTE
Keeping an open mind

"I believe in an open mind, but not so open that your brains fall out."
-- Arthur Hays Sulzberger (1891-1968), publisher of The New York Times
CALENDAR: THIS WEEK | permalink
Brown Bag Lunch: Noon, Nov. 4, Center for Women, 129 Cannon St. Deb Mangolt will share many simple activities to turn your next girlfriends' getaway into a life-changing experience, with more fun to rejuvenate your mind, body and soul. This is free, but registration is required by calling (843) 763-7333 or emailing info@c4women.org.

How to beat the boys at pool: 10 a.m. to noon, Nov. 6, Player's Place Billiards, 1401 Sam Rittenberg Blvd. Whether you want to play a better game of pool, or just look cool at the table, Shari Stauch, WPBA Hall of Fame Player, will show you how to look and play like a pro. Basic game rules, pool hall etiquette, pool player lingo and tips to immediately improve your game, no matter your skill level. Cost is $20 for Center for Women members, $40 for non-members. Registration required online.

Fall Festival: 10 a.m. to 2 p.m., Nov. 6, Charles Towne Montessori, 56 Leinbach Street, West Ashley. Charleston's only internationally-certified Montessori school will have a fall festival filled with games, great food and lots of fun for children and adults. More online here.
Capital BookFest Charleston: 10 a.m. to 6 p.m., Nov. 6, at the Charleston County Public Library on Calhoun Street, Blue Bicycle Books on King Street and the College of Charleston. More than 60 writers, poets and children's authors will congregate in Charleston for a free, lively and informative day of storytelling, readings and panel discussions during the inaugural Capital BookFest Charleston, sister festival to the successful Capital BookFest in Washington. Headliners include Nikki Giovanni, Mary Alice Monroe, E. B. Lewis, Tananarive Due, Josephine Humphreys, Michelle Singletary, Victoria Rowell, Gary Smith, Sonia Sanchez and Margot Theis Raven. For more information, go online.

Harvest Festival: 11 a.m. to 5 p.m., Nov. 6, Mullet Hall Equestrian Center at Johns Island County Park. The Charleston County Park and Recreation Commission presents live bluegrass music from five local bands, hay rides, a stick pony corral, live animals, pumpkin decorating, penny diving, lasso demonstrations, crafts and feasting on Carolina barbeque, turkey legs, roasted corn on the cob, kettle korn. Admission is $5; free for children 12 and under and Annual Gold Pass holders. As part of the festival, Mullet Hall Equestrian Center offers a Weekend Trail Ride for horse owners Nov. 5-7. Bring your horse, camping gear and supplies for two nights of camping and trail riding on 20 miles of wooded trails. For more information or to register, call 843-795-4FUN or visit www.ccprc.com.

(NEW) Fur Ball: 6:30 p.m., Nov. 6, at the Marriott, Lockwood Boulevard. The Fur Ball is Pet Helpers' largest annual fundraiser. With a Casino Royale theme, the evening features a live auction, casino games, a seated dinner and live entertainment. Click here for tickets.
CALENDAR: ONGOING AND SOON

(NEW)Sustainable seafood dinner: 7:30 p.m., Nov. 8, at Pane e Vino, 17 Warren Street. The South Carolina Aquarium and Pane e Vino present a relaxing evening of mouth-watering sustainable seafood and seafood education. Enjoy dishes highlighting natural products from our coast prepared with an Italian flair, all while learning about how your seafood choices can affect the fish of the future. Dinner reservations are $45 per person (not including tax and gratuity). Ten percent of the total will go towards the South Carolina Aquarium's Sustainable Seafood Initiative. Space is limited. For reservations, contact Pane e Vino at (843) 853-5955.
Blessing of the Vine Festival: 1 to 5 p.m., Nov. 13, Irvin-House Vineyard, located at 6775 Bears Bluff Road on Wadmalaw Island. At the 8th Annual Blessing of the Vine Festival, wine lovers can witness the blessing of muscadine grapevines by a priest, and enjoy live music from The Hawkes while taking in the charming setting of Irvin-House Vineyard. The event, which includes a burger-cookng contest, is open to the public, admission is $5 per car. Food will be available for purchase from Taco Boy, Home Team BBQ and Alchemy Coffee Shop. The Blessing ceremony will start at 2 p.m. For more information, call (843) 559-6867.

3rd Annual Rural Mission Oyster Roast: 3-6 p.m., Nov. 14, Bowen's Island Restaurant. Don't miss this terrific November oyster roast that supports the outreach programs of the Rural Mission, which helps those who have the least. Enjoy great roasted oysters, food, drinks, live music and a great sunset view. Tickets are $25 for adults, $5 for children and are available from the Rural Mission at 843-768-1720, or buy at the door or order online.


(NEW)Field feast: 3 p.m. to 8 p.m., Nov. 14, Rosebank Farms, 4455 Betsy Kerrison Parkway on Johns Island. The second annual Lowcountry Field Feast honors all things local, from landscape to produce to seafood. Proceeds from the farm field trip and family-style supper will benefit Lowcountry Local First's sustainable agriculture program. James Beard Award-winning Chef Mike Lata of FIG restaurant will cook supper, Sidi Limehouse and Louise Bennett of Rosebank Farms will serve as hosts and the dinner will take place in their backyard by Haulover Creek. Local bluegrass band The Bushels will entertain. Tickets for the event are $125. To purchase tickets, visit www.lowcountryfieldfeast.com or call 843-853-9120.
The art of negotiation workshop: 9:30 a.m. to 5 p.m. Monday-Thursday, 9:30 a.m. to noon, Friday, begins Nov. 15, 297 East Bay St. Erica Ariel Fox leads this workshop using the Beyond Yes Method to turn stressful personal or professional relationships into successful ones. Cost: $850. Go online for more information or phone the Sophia Institute, 843-720-8528.
FOLLOW US ON TWITTER
We encourage you to follow us through Twitter @chascurrents.
FOCUS ARCHIVES
12/30: Kiser: Yoga champ
12/27: Guerard: Hunger, homeless
12/20: Emerson: Ordinance
12/16: Meals on Wheels
12/13: Joye: Court system vital
12/9: Barnette: The Nutcracker
12/6: Kaynard: Recycling ideas
12/2: Swayne: Health reform
11/29: Boisseau: Idea harvested
11/22: Hamilton: Operation Home
11/18: Humphreys: Being healthier
11/15: Dittloff: Saltmarsh
11/11: Guerard: Veterans Day
11/8: Stanfield: Metanoia invests
11/4: Hannah: Immunologix
11/1: Clements: Red Cross
10/28: Roberts: Road myths
10/25: Jones, Patrick: Schools
10/21: Spencer: Fine Art Annual
10/18: Duncan: 220 years of service
10/14: Colbert: Smartphones
10/11: Barnette: Ballet season
10/7: Bailey: YESCarolina book
10/4: Crosland: HeadsUp on injuries
9/30: Starland: Visual arts
9/27: Vural: Art, essay contest
9/23: Blanchard: House in order
9/20: Barry: Going "social"
9/16: Hutchisson: Being green
9/13: Schleissman: Wood workshop
9/9: Kirby: Sobering success
9/6: Brooks: Great volunteers
9/2: Graul: Lowcountry Loc 1st
ANN THRASH ARCHIVES
12/30: Spiked Ambrosia
12/16: Retooling sports gear
12/9: Looking for perspective
12/2: Experience a gift
11/18: Ticket for downtown
11 /11: Early for Christmas?
11/4: On sharpening knives
10/28: On voting decisions
10/21: Fall color, parties
10/14: Squirrel away some pecans
10/7: New film on Jews, baseball
9/30: Making It Grow
9/23: Diving into the Lowcountry
9/16: Curbing domestic violence
9/9: Shrimp-baiting time
9/2: Tail-wagging and -gating
8/26: Urban gardening
8/19: Nirvana, Class of '14
8/12: History is interesting
8/5: Robert, Variety Store
7/29: Lazy? Boiled peanuts
7/22: Purple Toes book
7/14: Art opens doors
7/1: Lots to do on 4th
6/24: Ways to nab skeeters
6/17: Dump the Pump, more
6/10: Lots to do locally
6/3: Dancin' for dollars
ANDY BRACK ARCHIVES
12/27: Planning Kansas trip
12/20: Remembering Owen
12/13: Inspiring entrepreneurs
12/6: Be careful what you ask for
11/29: Our linguistic heritage
11/22: Shared sacrifice
11/15: Media responsibility
11/8: No "new era" for SC
11/1: "Invest" isn't dirty word
10/25: Challenges ahead
10/11: Highway problem
10/4: Dupree and Senate
9/27: Haley-Sheheen race
9/20: Political, energy efficiency
9/13: British invasion
9/6: Meet Dave the Potter
8/30: Gulf pix make impact
8/23: Thank a teacher
8/16: Pharmacy, juice
8/2: Cherry juice, Gardner
7/26: Biden on Hollings
7/19: About Turkey
7/7: Campaign trash
6/28: Impatient electorate
6/21: Haley's thin record
6/14: Daddy-daughter trip
6/7: Gulf spill report
MARSHA GUERARD ARCHIVES
10/21: Charleston: good performer
8/19: How many med schools for SC?
PETER LUCASH: BUSINESS INDIGO
10/28: Eggers joins Blackbaud
10/14: Restorative Physiology, ArborGen
9/30: Finance, accounting class
9/9: Busy with meetings
8/26: On biz interruptions
8/12: Pecha Kucha 7 coming
7/29: TwelveSouth again
7/14: Tech After 5 hits Chas
7/1: TwelveSouth scores praise
5/27: Facebook on privacy
5/13: Spark Charleston, more
4/22: Green Wizard, more
4/1: Encouraging biz signs
3/18: Biz fair, CED venture
3/4: Lowcountry tech hub
2/4: Advice on working with Boeing
1/21: Co-working group
1/7: Free library text questions
GREG GARVAN: CHARLESTON GREEN
9/23: Shredding together
9/16: Saving money
9/2: Energy standards needed
8/19: Investing can be tied to ideals
8/5: Trident Tech green grant
LIST ARCHIVES
12/30: Top lists from 2010
12/27: 5 tech trends for 2011
12/20: 5 holiday party tips
12/16: Holiday recycling
12/13: 5 offbeat SC places
12/9: 5 financial sites
12/6: 12 uses of WD-40
12/2: 5 for Web traffic
11/29: 5 on dehydration
11/22: 5 for going back to school
11/18: 5 on foreclosure
11/15: 5 for exercising
11/11: 5 to rid roadblocks
11/8: 5 for keeping warm
11/4: 5 favorite ballets
11/1: 5 for your face
10/28: 5 parenting tips
10/25: 5 on long-term care
10/21: 5 on childhood obesity
10/18: 5 homeless myths
10/14: 5 on breast cancer
10/11: 5 beef cuts
10/7: 5 back helpers
10/4: 5 for recruiting
9/30: 5 kids' books
9/27: 5 for kayaks
9/23: 5 for pets
9/20: 5 at the Gibbes
9/16: 5 date nights
9/13: 5 fall plants
9/9: 5 wine resources
9/6: 5 magical moments
9/2: 5 great preachers